About GPS Lokator
Our multi-language GPS Lokator platform supports 52 languages, here you can check exactly which languages ​​the GPS tracking system supports:
Please check supported GPS devices by GPS Lokator
For just $ 55 a month, you can start a GPS tracking business or use a GPS tracking platform for your services to track GPS devices as well as smartphones.
Once you select a package and purchase it, in 36 hours we will create a unique GPS tracking platform and applications with your logo, colors of your choice, platform name as well as a background image of the platform of your choice.
You don't have to worry about anything because we will maintain your server on which we have installed the GPS tracking platform, we will regularly update the server as well as the GPS tracking platform and we will do protection from all aspects or hackers.
Through the GPS tracking system you can create user accounts for your clients
For more information please refer to the Buy Now page.
if you need a test order to test the GPS tracking platform, please contact us.
With GPS Lokator server you can track live GPS devices. With GPS tracking system you can track Android mobile phones to which you have previously installed application on it. GPS lokator tracking system can be used for tracking: cars, trucks, helicopters, planes, construction machines, people (employees, family), pets, etc. We offer you android application to install on the device you want to locate. You can also order GPS devices from us, for cars, home pets and more, feel free to contact us. Through GPS tracking platform, you can track live your devices and make a report on the location of the GPS devices in the previous 6 months.
Track Vehicles
GPS Locator tracking system allows you to track vehicles, whether it comes to personal vehicles or you want to track your companies vehicles and employees, their movements, drives, routes etc.
We are the cheapest gps company on the internet with high quality services and support. If you find cheaper and better quality, please let us know!
Track Mobile Phones
As for locating through mobile phone applications, we offer applications for Android mobile phones.We will create an application for you and modify it with your desired name as well as the logo and colors according to your wishes.
Our GPS Locator allows you to track the location of a mobile phone on which you have previously installed application, an ideal solution for monitoring our children, parents, etc. of course with their permission to monitor ...
GPS Lokator Feautures
Here you can see all feautures of GPS Lokator

GPS Lokator Server
GPS lokator software provides high performance and stability on Windows, Linux or any other platform. The server can be self-hosted in the cloud or on-premise. We also provide a number of hosted options with professional support.
Devices
GPS lokator supports more protocols and device models than any other GPS tracking system on the market. You can select GPS trackers from a variety of vendors from low cost Chinese models to high-end quality brands.
Interface
GPS lokator includes a modern fully-featured web interface with both desktop and mobile-friendly layouts. We also provide native mobile apps for Android platforms. In addition to that we have a set of apps enabling mobile devices to be used as GPS trackers
Live Tracking
With GPS lokator you can view your GPS devices in real-time with no delay. We have various mapping options, including road maps and satellite imagery. The Server can handle a wide variety of sensors and additional information supplied by GPS units.
Alerts
GPS lokator software provides instant web notifications along with support for email and SMS. This allows for external alerting in cases of harsh driving behaviour like speeding, fuel and maintenance events, geo-fencing and many other types of alerts.
Reports
GPS lokator supports simple location history, trip, chart and summary reports. You can view data directly in the web or mobile app and also export and download an Excel file. History can also be projected on the map providing visual representation.
A geo-fence is a virtual perimeter for a real-world geographic area. A geo-fence could be dynamically generated—as in a radius around a point location, or a geo-fence can be a predefined set of boundaries (such as school zones or neighborhood boundaries). The use of a geo-fence is called geo-fencing, and one example of usage involves a location-aware device of a location-based service (LBS) user entering or exiting a geo-fence. This activity could trigger an alert to the device's user as well as messaging to the geo-fence operator. This info, which could contain the location of the device, could be sent to a mobile telephone or an email account.
Geofencing, used with child location services, can notify parents if a child leaves a designated area. Geofencing used with locationized firearms can restrict those firearms to fire only in locations where their firing is permitted, thereby making them unable to be used elsewhere. Geofencing is critical to telematics. It allows users of the system to draw zones around places of work, customer's sites and secure areas. These geo-fences when crossed by an equipped vehicle or person can trigger a warning to the user or operator via SMS or email.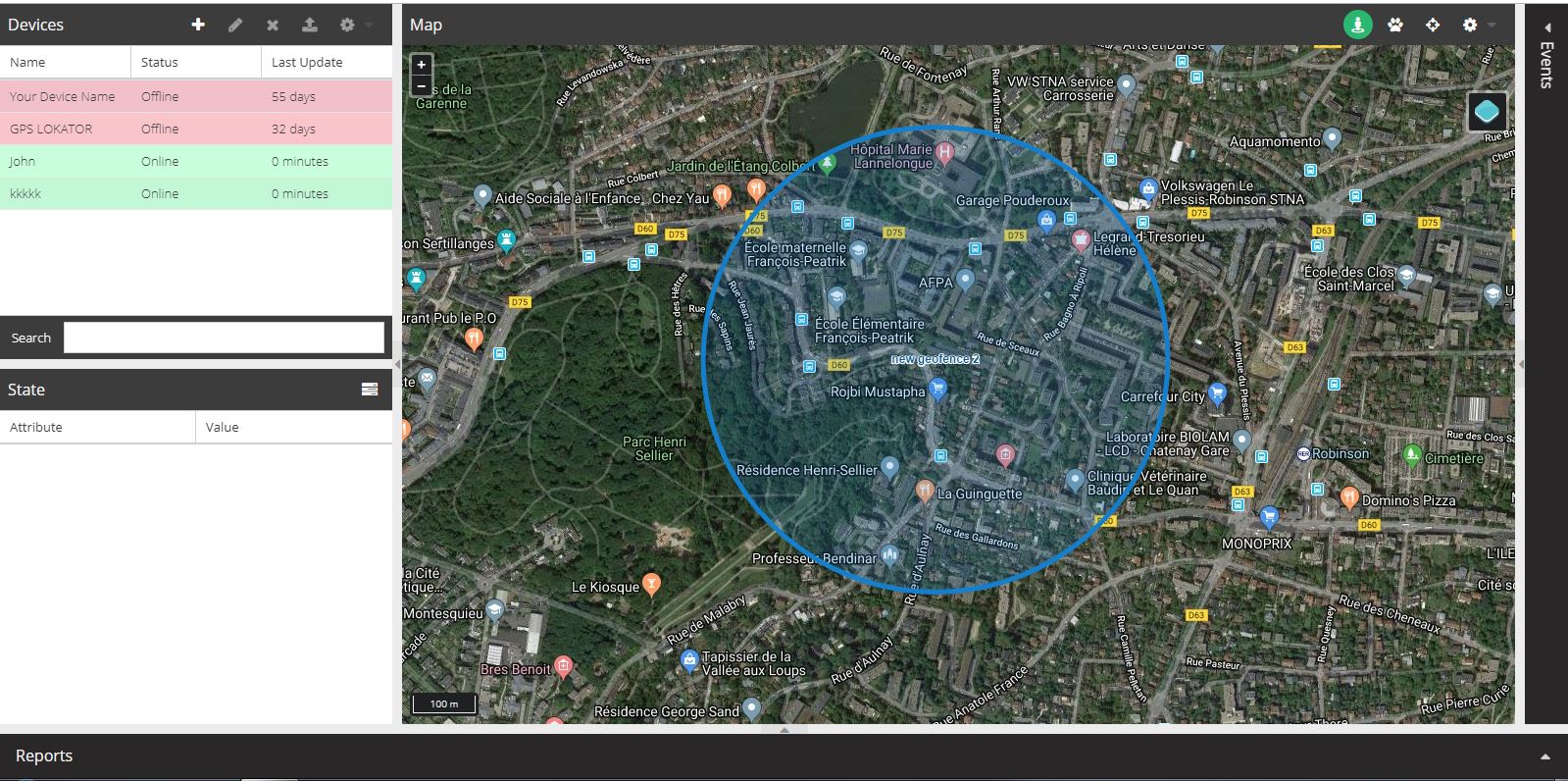 Notifications is the way to notify users about (device exit/enter Geofence, device is online/offline etc..)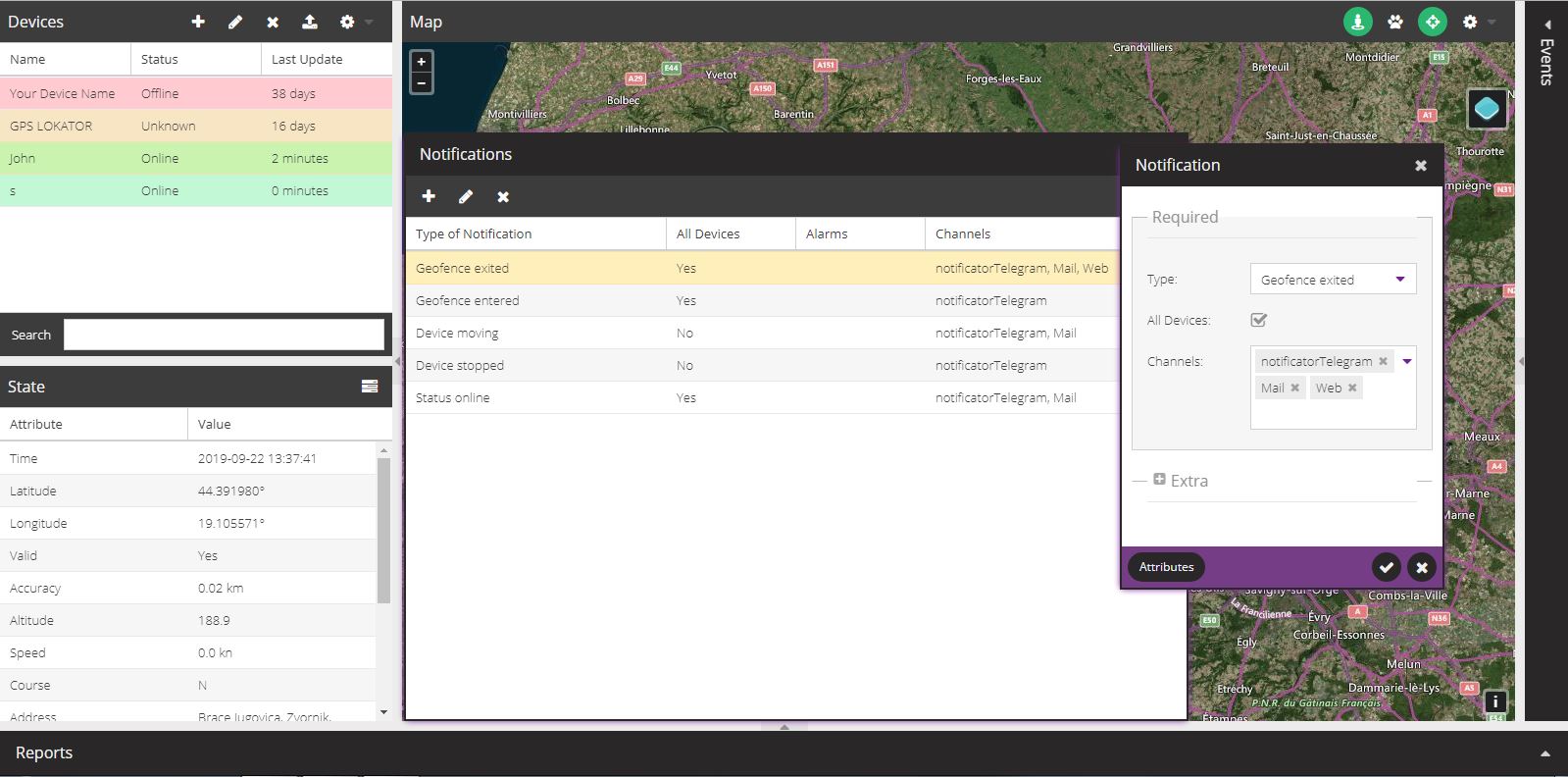 Tracking a person, vehicle, mobile or any other important object has never been so easy. Feel safe about your family and get notifications when device exite or enter the Geofences or manage your business with effective and useful features. With GPS Lokator software you can get the most relevant notifications about your vehicle/mobile condition or driving behaviour, for instance: driver's stopovers, speeding, fuel consumptions and the distance that has been traveled. Furthermore, get instant SOS alerts in cases of emergency. All notifications receive easily to your computer, tablet or smartphone, that works with Android or Windows operating systems.
All important reports and history of your tracking vehicles, people or smartphone can now be downloaded in XLS format. Get the essential reports, such as: the exact location of your following object, the distance traveled, vehicle stopovers, fuel consumptions and driving hours in one place. All detailed information can be saved to your laptop, smartphone or any other device. Providing useful and effective features, GPS Lokator also generates group reports solutions, that can be downloaded in a history format.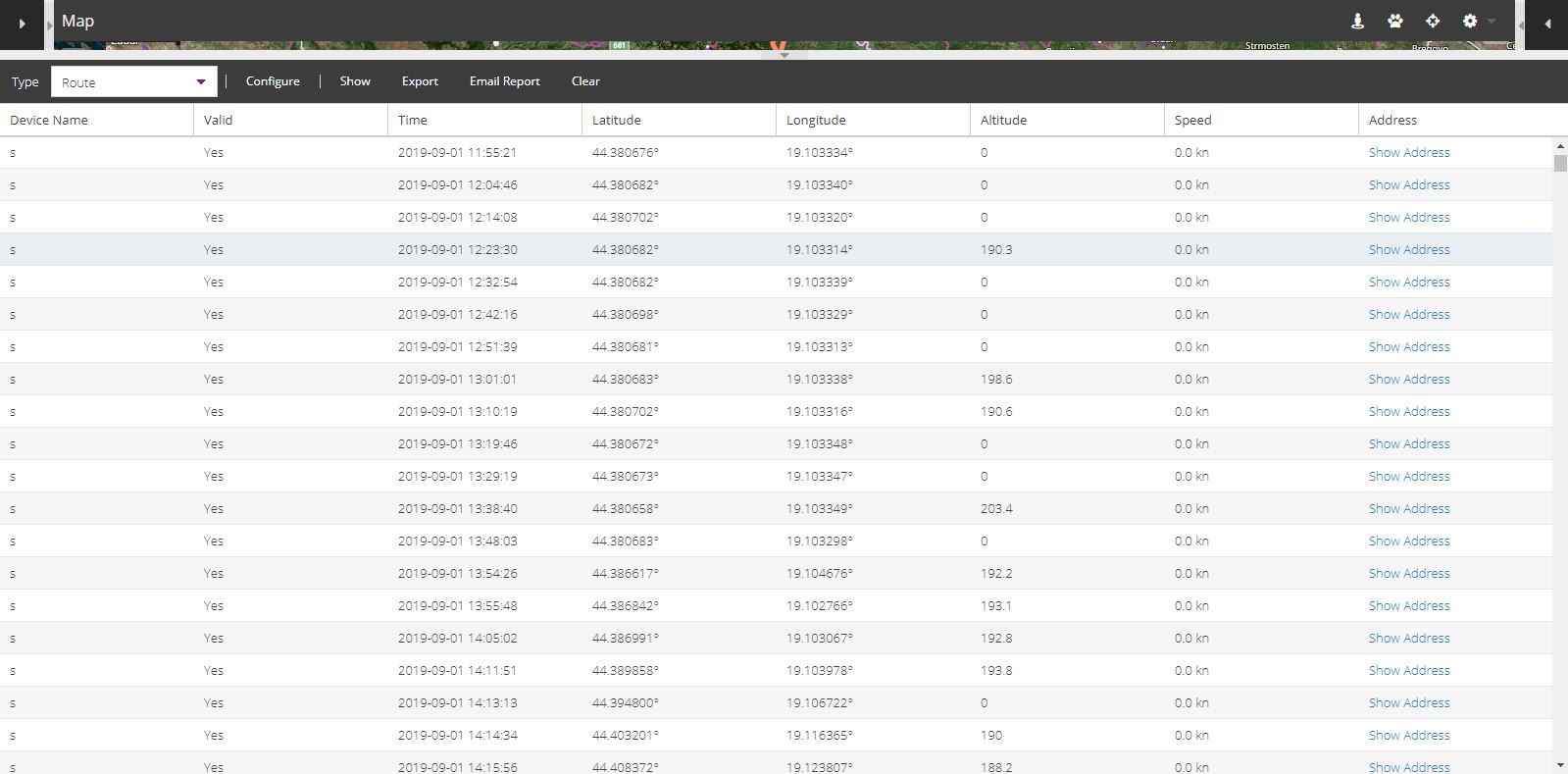 Reverse geocoding is the process of back (reverse) coding of a point location (latitude, longitude) to a readable address or place name. This permits the identification of nearby street addresses, places, and/or areal subdivisions such as neighbourhoods, county, state, or country. Combined with geocoding and routing services, reverse geocoding is a critical component of mobile location-based services and Enhanced 911 to convert a coordinate obtained by GPS to a readable street address which is easier to understand by the end user. Reverse geocoding can be carried out systematically by services which process a coordinate similarly to the geocoding process. For example, when a GPS coordinate is entered the street address is interpolated from a range assigned to the road segment in a reference dataset that the point is nearest to. If the user provides a coordinate near the midpoint of a segment that starts with address 1 and ends with 100, the returned street address will be somewhere near 50.
Terms of Use/Legal
Avgust 15, 2020 4:17PM
These Terms of Use represent the agreement between You and GPS Lokator. By accepting these Terms of Use, You also agree with our Privacy Policy.
Eligibility: To access or use the services provided by GPS Lokator, You must be authorized representative of legal entity or at the age of majority according to the relative legislation. By accepting these Business Terms, You assure that the information You provide is accurate, complete and always present. Inaccurate or incomplete information may result in the immediate termination of Your account via GPS Lokator.
Confidentiality: You are responsible for maintaining the confidentiality of Your account and password, including but not limited to the restriction of access to Your computer/mobile device and/or account. You agree to accept full responsibility for any and all activities or actions that occur under Your account and/or password. We accept no liability for any losses or damages incurred as a result of your account details being shared by You. You must notify GPS Lokator support immediately upon becoming aware of any breach of security or unauthorized purchase or other irregular use of Your account.
Intellectual property: GPS Lokator is, and shall be, the sole and exclusive owner of all titles, logos, trademarks and copyrights displayed on the website and mobile application or contained in the documents and other materials that are created, made or conceived in the course of performing the services, including all intellectual property rights therein (hereinafter – intellectual property). You shall not copy, reproduce, store, transmit, broadcast, publish, modify, create a derivative work from, display, perform, distribute, redistribute, sell, license, rent, lease or otherwise use, transfer (either in printed, electronic or other form) or exploit any intellectual property, in whole or in part, for commercial purposes or in any way that does not comply with these Terms of Use or applicable laws without prior written permission of GPS Lokator. In addition, the look of the website and mobile application, including all page headers, custom graphics, button icons, and scripts, is the trademark of GPS Lokator and may not be copied, imitated, or used, in whole or in part, without the prior written permission of GPS Lokator. The use or misuse of GPS Lokator's trademarks or other intellectual property, except as specifically permitted by these Terms of Use, is prohibited. You shall promptly notify GPS Lokator if You recognise or suspect that any of GPS Lokator's intellectual property rights has been violated or infringed.
Software Piracy: GPS Lokator Software Piracy is stealing. If You or Your company were caught pirating GPS Lokator software, You could be held liable under both civil and criminal law, pay a large fine, be sentenced to jail for up to two years (or both) according to applicable laws. You can anonymously report piracy of GPS Lokator by e-mail to support@gpslokator.net
Restrictions: GPS Lokator accounts are non-transferable and funds are not refundable for active accounts. GPS Lokator does not allow hidden tracking. You cannot use our services to track a person without their permission or the object without the owner`s permission. You cannot use GPS Lokator services where such actions are illegal. You cannot send automatic requests to GPS Lokator, try to mislead GPS Lokator authentication measures, try to reverse engineer our software or our protocols and be involved in activities which damage our systems. GPS Lokator accounts are non-transferable, and funds are not refundable for active accounts. It is Your responsibility to make sure that Your use of GPS tracking does not violate provisions of relevant legislations and You agree to accept full liability for any violation of aforementioned terms.
Disclaimer: Your use of the services is at your own risk. You understand and agree that the services provided by GPS Lokator are provided as is and as available, without express or implied warranty or condition of any kind. GPS Lokator makes no representations about suitability of the services and does not warrant that: i) the services will be of satisfactory quality, uninterrupted, secure or available at any particular time or location; ii) the services will not infringe the rights of third parties; iii) the services will be compatible with all systems; iv) the content on the website and mobile application is free of viruses or other harmful content; v) the results of using the services will meet your requirements. No part of the website or mobile application is intended to constitute advice and the content of the website or mobile application should not be relied upon when making any decisions or taking any action of any kind.
Indemnification: You agree to defend, indemnify and hold GPS Lokator, its affiliates, directors, officers and employees harmless, including costs and attorney's fees, from any claim or demand made by any third party due to Your use of the services, Your violation of these Terms of Use, and/or Your violation of any other right of any person or entity. You agree that GPS Lokator, its affiliates, directors, officers or employees shall not in any circumstances be liable for any loss of profits, business, business opportunities, revenue, reputation, goodwill, anticipated savings or wasted expenditure, any loss or corruption of data or information, any loss or liability under or in relation to any other agreement, any indirect or consequential losses or any punitive, exemplary or special damages arising from or relating to any errors or failures of performing the services on the website or mobile application by GPS Lokator, regardless of any notice of the possibility of such damages. GPS Lokator has no liability for any disruption or non-availability of the Web Site resulting from external causes including, but not limited to, ISP equipment failure, host equipment failure, communications network failure, power failure, natural events, acts of war or legal restrictions and censorship. GPS Lokator shall not be liable for any improper or incorrect understanding of the information described and/or contained herein and assumes no responsibility for anyone's misunderstanding of such information. Nothing in these Terms of Use excludes or restricts GPS Lokator liability for any direct or indirect loss or damage arising out of the incorrect delivery of Goods or out of reliance on incorrect information included on the website or mobile application.
Limitation of Liability: Any liability of GPS Lokator shall be limited to rescission of sale and refund of purchase price.
Changes to Terms of Use: GPS Lokator has the right to change these Terms of Use at any time for any reason without prior notice. The changes will be posted on the GPSLokator.net website and mobile application. If You use the GPS Lokator services after modification of Terms of Use, it poses as an acceptance of the updated Terms of Use.
General: You agree that these Terms of Use, Business Terms, Privacy Policy and other legal documents posted on the website and mobile application have been drawn up in English.
No Waiver: In the event that any party to these Terms of Use fails to exercise any right or remedy contained herein, this shall not be construed as a waiver of that right or remedy.
Severance: If any provision of these Terms of Use is invalid, illegal or unenforceable in any respect under any applicable legislation, the provision shall be deemed omitted to the extent that it is invalid, illegal or unenforceable. In such a case, the remaining provisions of these Terms of Use shall be binding.
Dispute resolution: You agree to make a diligent, good faith attempt to resolve any disputes or controversies relating to or arising out of these Terms of Use by informal negotiations within 30 (thirty) calendar days. During the time of informal negotiations, You agree to refrain from any action or behaviour, including, but not limited to actions in the media or social networks that may harm the reputation of GPS Lokator, its affiliates, employees or clients, or cause the damage to GPS Lokator, regardless of where and when such actions would occur. In case of failure to solve any such dispute or controversy by way of negotiations, or if negotiations do not begin, the courts shall have exclusive jurisdiction to settle any dispute arising out of or in connection with these Terms of Use.
Privacy Policy
Avgust 15, 2022 4:17PM
This Privacy Policy outlines the type of information GPS Lokator may collect from data subjects who use this website and mobile application, the way their personal data is processed, the rights of data subjects and other relevant information. By accepting this Privacy Policy, you agree, that your personal data would be collected and processed in order to provide and improve the services on our website or mobile application. The processing of your personal data take place in compliance with Regulation (EU) 2016/679 (hereinafter - General Data Protection Regulation) and provisions of relevant legislations.
Personal Data: Any information that directly, indirectly, or in connection with other information - relates to an identified or identifiable living individual.
Data Subject: Any person whose personal data is being collected, held or processed.
Data Controller: GPS Lokator www.gpslokator.net
Cloud: The place in which any personal data is maintained, managed, backed up remotely and made available to users over a network.
Purposes of processing your Personal Data: GPS Lokator may collect, record and analyse your personal data in order to: operate, monitor, analyse and improve the services on the website or mobile application; provide the security and stability of the services on the website or mobile application; provide you with notifications in order to show ads and customize other content for you. We may share your personal data to the third parties only, if it is necessary for the following purposes: when we use our service providers; due to a request from Law Enforcement or National authority. We may use third-party services for the purpose of facilitating payment and the completion of your purchases.
Personal data: We only collect and process personal data that you provide us upon registration regarding the use of the services on the website or mobile application. If you visit our website or mobile application, we collect the following data, which is necessary in order to display the website correctly and guarantee required stability and security: IP-address; user statistics - date and time stamp, time difference to GMT, general location. Furthermore, GPS Lokator may collect and process any personal data that you voluntarily submit in the website or mobile application, such as: your full name, address, zip code, city, region, country, phone number; your email address, in order to receive information, updates and newsletters; your payment information - credit card type, last four digits, expiration date; PayPal or other relevant account information; date of payment, currency, amount. Your personal data will be processed only for the above identified purposes. GPS Lokator shall perform only such actions of your personal data processing that, are necessary to achieve the aforementioned purpose. Processing of your personal data shall be based on necessity for the performance of a contract (article No. 6(1)(b) of the General Data Protection Regulation). Any other actions of processing of your personal data shall be based on consent (article No. 6(1)(a) of the General Data Protection Regulation) or other legal basis established in the General Data Protection Regulation
Personal data and the Cloud: If You store or process any of personal data in the Cloud using GPS Lokator services, you are considered as a data controller and agree to take full responsibility for complying with the General Data Protection Regulation and for how personal data is handled, processed and stored in the Cloud and in such cases GPS Lokator is not considered as the Data Controller or collector/processor of your personal data and information disclosed hereto.
Safety of your Personal Data: In order to secure your personal data, we apply the following safety measures: running firewall software, keeping our servers up to date with security patches, preventing access to the Personal Data from the outside and taking other necessary measures to keep the personal data secure. However, we cannot guarantee non-disclosure of personal information, due to factors beyond our control. Therefore, if the personal data is in the Cloud we can not be responsible for third parties as service providers. If you believe that Your account has been hacked and any of Your personal data has been disclosed, please contact us as soon as possible.
Keeping your Personal Data: We will not retain your personal data longer than is necessary to fulfil the purposes for which it was collected or as required by applicable laws, regulations or service provision. At the end of the term, your personal data will be deleted.
Cookies: Cookies are small pieces of information sent by a website to a user's hard disk. We use cookies to determine the size and habits of our audience on the website or mobile application. Cookies cannot be used to run programs or deliver viruses to your computer or mobile device. Two types of cookies are required to use the website or mobile application: Session Cookies are temporary cookies that remain only until you log out of the website/mobile application or exit your web browser. Session Cookies store only a unique visitor ID number that may be used to ensure users are properly authenticated and can view website information. Persistent Cookies remain in the cookie file of your browser for much longer, even after you leave the website or mobile application. Persistent Cookies store preferences that should persist from visit to visit and enables us to understand how users use the website and mobile application.
Information about your rights: In compliance with GDPR, you have these rights regarding your personal data: Right of access - the right to be informed of and request access to the personal data we collect and process about you; Right to rectification - the right to request that we amend or update your personal data where it is inaccurate or incomplete; Right to erasure - the right to request that we delete your personal data; Right to restrict - the right to request that we temporarily or permanently stop processing all or some of your personal data; Right to object - the right, at any time, to object to us processing your personal data on grounds relating to particular situation and the right to object to your personal data being processed for direct marketing purposes; Right to personal data portability - the right to request a copy of your personal data in electronic format and the right to transmit that personal data for use in another party's service; Right not to be subject to Automated Decision-making - the right to not be subject to a decision based solely on automated decision making, including profiling, where the decision would have a legal effect on you or produce a similarly significant effect.
Contact Information: If you have any questions about your personal data or the rights that you have, please feel free to contact us by email at: support@gpslokator.net. We will respond to your request within 30 calendar days upon verification of your identity.
Changes of this Privacy Policy: We reserve the right to change this Privacy Policy at any time without prior notice. We will post the changes to this Privacy Policy on the website and mobile application and will indicate the date this Privacy Policy was last revised. Any revised version will be deemed applicable when published on the website and mobile application. It is highly recommended to check this page often as these changes may concern you and your right to personal data protection.
Gallery
Check our gallery from the recent events
GPS Tracking System Pricing
If you need a unique package of your choice, please contact us.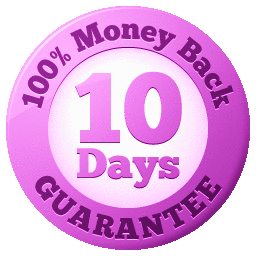 Contact Us
Contact information GPS Lokator
Viber/WhatsApp
+387 65 217 359